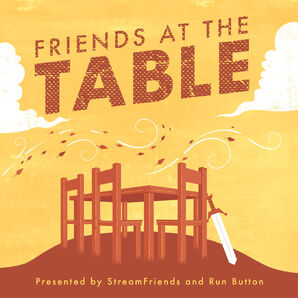 Autumn in Hieron
(formerly known as
Seasons of Hieron
[note 1]
) is the first season of
Friends at the Table.
It is a "post-fantasy, post-post apocalyptic" game of
Dungeon World
.
The season centers around two groups of adventurers on the continent of Hieron, a land devastated by a cataclysmic period an unknowable amount of years previously.
Autumn in Hieron is mostly played in Dungeon World, with special supplements. In the holiday special, Dungeon World is mashed up with Sherlock Holmes: Consulting Detective as the players are called to solve a murder. Episode 20 also uses The Sundered Land to create a myth about one of the setting's gods.
See also
Edit
↑ The season was renamed for greater clarity and consistency with subsequent Hieron seasons as part of the podcast feed's switch to Libsyn, which was officially implemented on August 2, 2017.